The Road Back For a Former Pirate - Part 1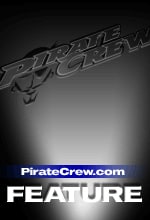 Foreword: This is the first part of an article that describes how loyal fans and alums have reached out to help former basketball player J R Morris and his family in a time of personal grief and crisis. The second part describes the positive impact of those efforts on the Morris family and Seton Hall's reputation in the close-knit Milwaukee, Wisconsin community. In Part 2, you will also read about J R's comeback activities and his Pay-Back Pledge. You will learn why this initiative is evolving into a "win-win" situation for Seton Hall University.
We contacted Sybil Morris (the "Real Deal" on Rivals) in November, 2006 to invite her and J R's father Chester to be our guests at the Marquette game the following January. Shortly after the pre-game reception had started, Sybil called me from her cell phone saying that they were on the way over to join us. She said they had applied their own full court pressure to J R and were bringing him with them. While we had been hopeful of meeting up with J R, it was a pleasant surprise that he came to the event. It was also quite a treat for many of the kids who had him autograph their Seton Hall baseball hats and shirts.
We later learned that J R's apprehension was related almost entirely to the way things ended at Seton Hall; that he was caught totally off guard by the chain of events and game suspension in his Junior year. The wide spread publicity and negative way in which he was portrayed were both embarrassing and publicly humiliating; especially for a person who is somewhat introverted to begin with. He became in his own words a "head case" and lost his will power. "I feel badly about the whole situation," he told us. "I admit I made some mistakes and didn't handle the stress the way I might have. I do have good memories of the many friendships I made there. I stay in touch with several of the players and talk regularly with Grant Billmeier, whose parents are friends with mine and with Marcus Tony El and Donald Copeland. Grant and I knew each other before either one of us accepted basketball scholarships. Seton Hall still has a place in my heart. It's really great how many fans are reaching out to me. I didn't expect this," he added.
Our group met again with the family two weeks after the game, at a restaurant half way between Milwaukee, the Morris' home, and Chicago, where Seton Hall has had an active alumni chapter for years. At the dinner, we learned about the family's values and their strong but understated religious beliefs; about how they constantly help other members of their own community in a very quiet way. They also shared some of their grief and frustration over J R's situation and the loss of their daughter but never once did they sound like people who were complaining. Sybil expressed chagrin about a person at the campus whom she felt was a bad influence on her son but it never went further. J R's most frustrating issue was dealing with what needed to be done about his leg injury that had never been properly diagnosed. He was still working out 2 to 3 hours a day and volunteering at two youth centers but knew he had to have the leg corrected if he were to ever play professionally. We will cover the injury later in this article.
As we left that night, we were all thinking the same thing: We need to do something!
That something became a reality in the days that followed, as we prepared an organizing resolution for "Friends of J R Morris and Family", setting up a non-profit organization and opening a bank account in that name. Fittingly, our organizing committee consists of four former Seton Hall athletes, an "avid Pirates fan" and two other involved alums. Among the athletes are Jim Kenney '67, a basketball forward recruited by Richie Regan(who, coincidentally had a knee injury similar to J R's.); Rich Kersten '84, a former football player and back up catcher on one of the NCAA baseball teams; Kevin Webb '76, former captain of an SHU track team that produced five nationally or internationally ranked competitors and Bob Kimmerle '67, who was recruited by Coach Nick Menza as the goalie for the Pirates soccer team.
The "avid fan" is Dr. David Mandel, an NYU graduate and another Rivals poster who invested amazing amounts of time and energy to help the family work through and understand the vast range of medical treatment options for J R. If we have a true angel, it's Dr. Dave.
Backing up a little, the stated goals of our organization are to help J R get his life and career back on track. Still reeling from the frustrations of his college playing days, J R incurred a severe knee injury and was shocked by the sudden death of his sister and close friend in quick succession. He suffered the knee injury before signing a contract with the Deltek team in Sao Paola, Brazil, though he had made the team. He had no success getting proper treatment by the Brazilian doctors. Returning home for his sister's funeral, he reached a low point in his life. Without medical insurance, medical guidance and funds, J R became depressed and lost most of his desire. He had problems motivating himself, experienced depression and entered into counseling.
Our starting point in helping J R. was to make sure he received a proper diagnosis of his leg problem beginning with an MRI. We located radiologists in both Milwaukee and Chicago who were qualified and reliable but willing to work with us on costs. After securing and paying for the MRI, our group then contacted orthopedic specialists and team physicians for the Marquette and DePaul basketball teams and a third highly recommended specialist for first and second opinions. We also made a call to the Seton Hall team physician, who graciously offered to help J R but said that the hospitals he worked with would not likely discount their services.
Aside from the moral support and expertise that the organizers have provided, the funding of the medical treatment plan and necessary surgery is one of the most daunting challenges. As pointed out earlier, JR has no health insurance coverage and the family has very financial resources. His mother Sybil is a hair dresser and his father, Chester is a security guard. Sybil also helps her eldest daughter raise three grandchildren. Efforts to secure private insurance or to be added to his parent's insurance plan have so far not met with any success. J R is now trying to cut back on his part-time jobs and volunteer work and obtain more full time employment to help defray surgical expenses and pay for rehab.
"We know at this point there will be ACL reconstructive surgery and possible chondroplasty, according to Dr. Mandel. "It's a tricky situation. You not only need to find and negotiate with qualified surgeons but then you need to get up front commitments from the hospitals and anesthesiologists, he added" "We've had estimates ranging from a heavily discounted $15,000 to more than $40,000" said fellow organizer Rich Kersten, who has invested countless hours in negotiations. "Fortunately for us, JR and myself were already most comfortable with the qualifications of the surgeon at the lower end of the range." He and his staff helped us achieve across the board 50-60% discounts with the surgical center and anesthesiologist," Kersten added.
For those not familiar with JR, the 6-5 wing player was a first team all-state selection in Wisconsin along with current NBA players Devon Harris of Wisconsin and Steve Novak of Marquette. He then played a year with former SHU teammate Kelly Whitney at Faith Christian Academy in North Carolina. He became a Nike All-American and just missed the cut for the McDonald's All-American team. He was heavily recruited by Wisconsin and Marquette along with Iowa and Illinois. Seton Hall was the last team in the recruiting battle. But JR and his family were drawn to Coach Louis Orr's religious orientation which was similar to that of the family .At Seton Hall J R had some outstanding performances including a 16 rebound effort in one of the Georgetown games.
In Part II of this article, we will describe the Pay-Back pledge J R has made to our organizers, advisors and supporters. We will also describe the many things he is now doing to make a comeback. You will also read about an idea from Fordham 57, Rivals poster and Morris Fund advisory board member, to develop the fund into an ongoing effort for other former Pirate players such as Ramon Ramos.
Finally, we will also share names of some of the other supporters and other Rivals board members who are stepping forward to help J R and his family.
Won't you please consider giving your financial support to this terrific ex-Pirate who is trying to get his life back on track? If just 50 or 60 posters contribute $100 or more, that amount, combined with other fund raising efforts, should help us complete this mission. Again, this will be a "win-win" for Seton Hall.
Contact me at 847-767-0436 or gscott1740@aol.com if you wish to contribute to the J R Morris Fund or obtain a copy of "Helping a Fellow Pirate – the J R Story".