The Road Back For a Former Pirate – Part 2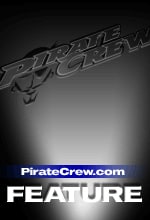 We promised in this part of the Road Back that we would tell you about J R's comeback activities and his pledge to repay the fan generosity; also about some of the great people involved in this effort.
As I told a former Seton Hall classmate today, this is truly a broad-based campaign. E-mails, phone calls, support and contributions are coming from graduates of Rutgers, Fordham, Villanova, and several other colleges in addition to Seton Hall. True sports fans with good hearts.
We have passed several of the e-mails on to J R and his family and told them of individuals who plan to spread the story to their own circles of friends. J R's response has been emotional. "It's like starting a new life, a fresh start for me,'' he said by phone from Milwaukee today. "It's really a blessing. I never expected anything like this. I used to go on the Rivals Board a lot and this is the first time I have seen positive things about me."
Motivated by the level of support, J R, is reconnecting with former friends like Marcus Tony El, John Allen and Grant Billmeier. After receiving an e-mail from J R, Marcus called his New Jersey agent from Japan where he is now playing basketball. The agent, who also represented Shaheen Holloway is now in discussions with J R.
Former teammate John Allen called from Israel after reading the article on the Rivals board. John, who is now playing for the Ramat-gan team, plans to introduce J R to the coach of his former team in Finland. "I've been trying to find J R for two years," he said.
J R also spoke to Grant Billmeier last night and was told by the popular Pirates tri-captain that he would support the effort to help Morris. Grant, who knew J R prior to entering Seton Hall, underwent a similar ACL surgery in February.
Job-wise, J R has been cutting back on his volunteer work with the Boys and Girls Club of Milwaukee and the Milwaukee Community Center to concentrate on landing a full time position to help pay for medical expenses. Bob Kimmerle '67, one of our organizers, has driven the 180 mile round trip from Chicago to Milwaukee on a couple occasions to mentor J R in the process. Prospects are good to land a job shortly in the tough local job market.
The former Pirate remains committed to assisting Keith Bearden, his former coach for the Wisconsin Scholars AAU team, where J R is enshrined in the Hall of Fame. Keith, who serves on our advisory board for Friends of J R Morris and Family, and J R are now encouraging visits to Seton Hall by two of their players who are ranked 1-2 in the state of Wisconsin. One of the prospects has already been scouted by Georgetown, Pittsburgh, Tennessee, Illinois and several other Division I schools.
But the most remarkable development in J R's Road Back, is the phone call we received from him a few weeks ago. After experiencing first hand the group of volunteers working on his medical treatment plan and other aspects of his life, he called us and told us he wanted to emulate for others what is being done for him. We call this "The J R Payback Pledge." His pledge is to reinvest in the Seton Hall and Milwaukee communities a portion of his future professional basketball earnings immediately starting with his first year's pay. He wishes to set up the same type of organization with a steering committee and board of advisors.
One of the options J R is considering is to contribute funds toward an idea advanced by another Morris Fund advisor and active member of our group, Dr. Frank DePaola, a dentist from Morristown, N.J. . Frank's idea is to make the J R Morris Fund a permanent fund to assist former Pirate players such as Luther Wright and Ramon Ramos who have suffered serious setbacks or financial hardships. The idea advanced by Frank seems to be gaining momentum rapidly.
Another topic we have discussed with J R is continuing his college education. J R has made a commitment to us that he will resume his education. He has written a letter to Monsignor Robert Sheeran thanking him for the opportunity to attend Seton Hall. Many persons hope he can complete his education in South Orange. All options are being explored.
Now begins the most critical, telling and challenging part of the journey.
In Part I, we discussed J R's surgical diagnosis and that he requires ACL reconstructive surgery and chondroplasty, as well as extensive rehab on the right leg. This was based on first and second opinions by highly qualified orthopedic surgeons. Next week, we will know if we were successful in a last ditch effort spearheaded by our fellow organizer Dr. David Mandel to secure private insurance. But in all likelihood, whatever the outcome, surgery will be imminent and we must raise $15,000 not including rehab costs. This will become the most critical and patience demanding part of the come back. Much of our hopes will be attached to the outcome. To date we only have about a third of the needed amount. We can't go further without your financial help!
In Part 1, we shared with you the names of our organizers, who also serve as our steering committee. With your indulgence, I would like to identify our hard-working group of advisors. In addition to Dr.DePaola and Coach Bernaden, they include Bob Carne '84, a technology marketing executive, who for many years doubled as the right hand man for USA coach of the year Kevin Boyle of St. Patrick's; Jim Lund, a Holy Cross grad, regional development director for Catholic Relief Services and father of a Seton Hall softball player; Bill Flynn '80, CEO of a national vision care company based in DesPlaines, Illinois; and Steven Devcich '76, marketing director for an international food products company and a resident of Lincolnshire, Illinois.
A lot of support has come from the Rivals Board. Just to mention a few of the posters, they include: Raritan Mike, Pirate Sal, Chickenbox, JM113, Fordham57, Halldan, Snaketom, Settaglia and Rotundi49. I know I have missed many others who have sent checks but I do not know their posting names. A special thank you to all.!!
In about one week, an article written by Jerry Carino of the Courier News will appear in that newspaper and on the internet. The article will include the address to which donations can be mailed.
On May 11, Matt Syrek "66, one of our most tireless and dedicated organizers will host a golf outing at his country club in Cary, Illinois. Proceeds, of course, will go to the Fund. Matt, a senior executive in the healthcare claims management industry, has been a constant source of personal encouragement and a generous donor to this unusual endeavor. He's a truly great human being and Seton Hall man!
The final next step is Yours. We hope you will find it in your heart to donate $100 or more to the J R Morris Fund. Mail your check to Gary Scott, 3429 Vantage Lane Glenview, Illinois. Or contact me at 847-767-0436 or by e-mail:gscott1740@aol.com. Thank you in advance for assisting us in helping this terrific young man. Any help you give us will be sincerely appreciated.